The Ultimate Androgynous Style Guide for Wedding Guests
We get a lot of qwearies about dressing up for an "in-between" look.
One person wrote, "I've seen tons of wedding outfit posts but none for wedding guests!" Good point! Going androgynous is one thing when you're in street clothes, but it's a whole other ball game when we're talking formal wear, and dressing up as a wedding guest is different than for other formal occasions because we tend to want outfits that are bright, happy, and playful.
Because androgyny means so many things to so many people, this article will be very long. I don't want to define androgyny for anyone. Androgyny can be dresses, suits, ties, pearl earrings, heels, or derbys. The following are just suggestions and inspiration that you can put towards an outfit that speaks to you!
Everyone approaches androgyny differently. For many people it involves combining items from the men's and women's department. For others who have a traditionally masculine or feminine appearance, they may choose to offset it (such as a masculine presenting person in lipstick and a dress.)
Inspiration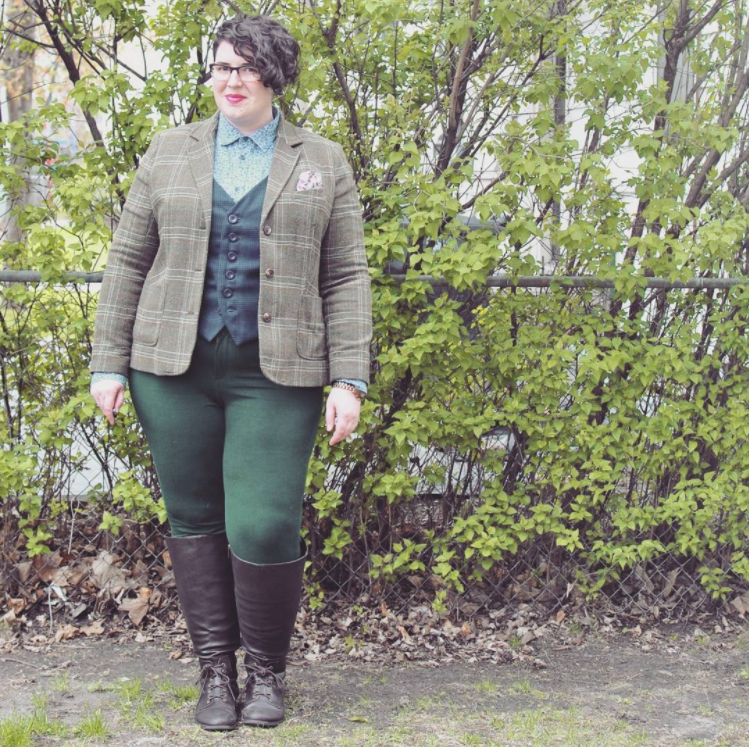 Jackets/Blazers
Suit jacket's from the men's department tend to be boxy, and depending on what you're going for, may me too masculine for your interests. Double breasted ones are pretty cool though, and if you have hips they'll bring out some shape.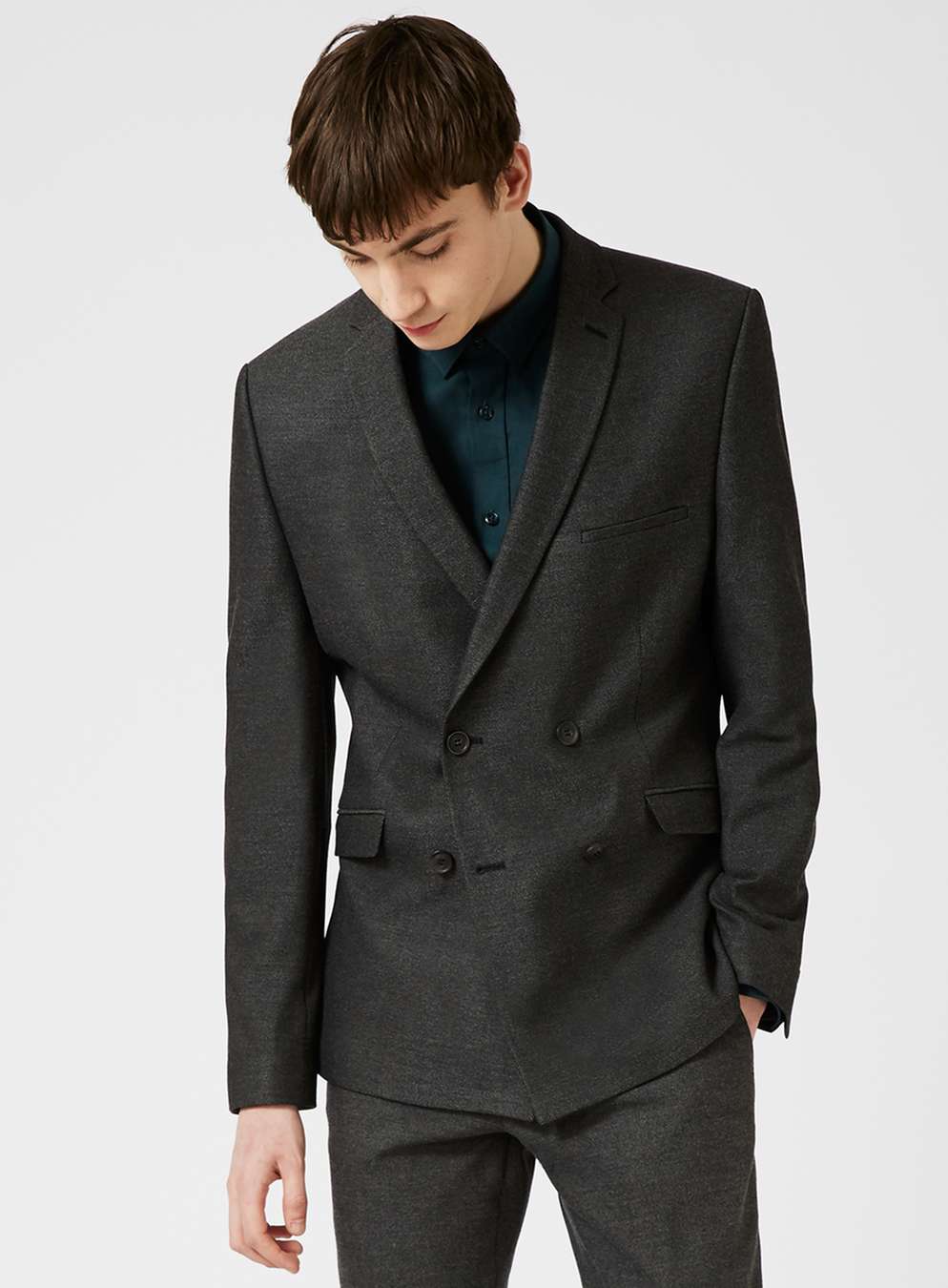 You can also get pretty creative with the designs though, and go for bright colors and patterns, which will deter from the boxiness.
Another thing you can do is wear a more feminine shirt under a men's blazer, and leave the blazer open:
Women's blazers will create a more feminine silhouette. Depending on where you shop they can still be pretty androgynous. I can personally vouch that the suits at Topshop have a nice fit.
By the way, if you are low on cash you can often find really great blazers at thrift stores! You can get them tailored for pretty cheap too.
Pants
Next, you'll want to pick out your pants. Unless you happen to get a jacket that comes with pants. Try on lots of things, and don't get discouraged if they don't fit. I'd expect about 25% of the things you try on to fit the way you like. Try things from all departments, and don't be afraid to mix and match.
Also, don't be afraid to go a size up. Everyone is so into "slim fit" these days that we forget that pants are supposed to have some room in them. Having a nice hang to your garments is also an important element of obtaining an androgynous look (Anita Dolce Vita goes more into the "slouch" here.) I'm not going to post any specific products, because it really all depends on how it falls on your body.
Accessories
A lot of people feel that ties are too masculine. It really depends on how you look and what you're wearing with it, because if you have a tie with heels on it's a very different look than a tie with traditional masculine attire.
In many ways, the accessories will really complete the androgynous look you're going for. Here are some gender neutral accessory ideas that aren't ties:
I'm a huge fan of all the collar tips and chains these folks created. Each piece is a true work of art and I think any of them would be beautiful in a wedding guest outfit!
For those with beards, check out my friend Avi's amazing beard tiara! His friend got it at Target, but they are now sold out. You can basically get any tiny tiara and put it in your beard. Here's some: just make sure you select "with hair comb."
Bing found these monkstrap gems from Cole Haan. I think they are amazing and they have a really androgynous feel!
Bass also carries very androgynous styles in their "women's" line:
If you're into more feminine styles and have larger feet, check out Long Tall Sally:
Or if you have smaller feet and prefer more masculine styles, check out Nik Kacy Footwear (which makes shoes for people of all feet sizes):
Make Up
Of course not everyone is into make up, but if you are - there are many ways to use make up in an androgynous way! For example, I can't not include this image from our femme desire show:
Check out this tutorial on how to get your own glitter beard!
Mojo has a ton of make up tutorials on their facebook page.
Or you can just use some bold lipstick:
Or you can get really creative and try something like this:
I hope these looks provide some fun inspiration! In the end, androgyny is however you define it for yourself. These are just ideas to get the ball rolling. If you come up with a look you like, don't forget to tag your photo #qwear on instagram to share with us.