The Real Catwalk Models on Self-Love, Identity, and Body Positivity
On December 1st 2018, I, along with over 200 others, gathered in New York to model in the 3rd consecutive "The Real Catwalk" show.
Model Khrystyana Karanova introduced "The Real Catwalk" to the world last year "to empower all to feel beautiful and confident in their bodies," she shared with Qwear. The flash mob-style show premiered in New York in December 2017 and then had a second life in London in August 2018.
By garnering the support of sponsors such as Salty, KingSize, Roaman's, Swimsuits for All, and Woman Within, The Real Catwalk provided us with an all-star treatment. Pre-show, models gathered to have breakfast (including mimosa's!), helped each other pick out pieces to wear, and apply make-up and any last touches. The atmosphere was so uplifting as models creating instant bonds with one another.
The runway show consisted of three sections: au-natural (basic, underwear, and onesies), holiday themed, and sexy vava voom (lingerie, bold prints and styles). Being in Times Square, the models quickly drew a curious crowd of onlookers, many pleased to see individuals promoting body-positivity. It was amazing to witness models walk off the runway feeling much more confident than when they walked on. Once the show ended, models headed to an after party where we continued the celebration with food and music.
The day exemplified the spirit of inclusivity and diversity by featuring models of all ages, ethnicities, genders, disabilities, sexual orientations, and life experiences.
While reporting live at the event for Qwear, I got the chance to talk to models back stage and hear their thoughts on fashion, identity, and the importance of representation.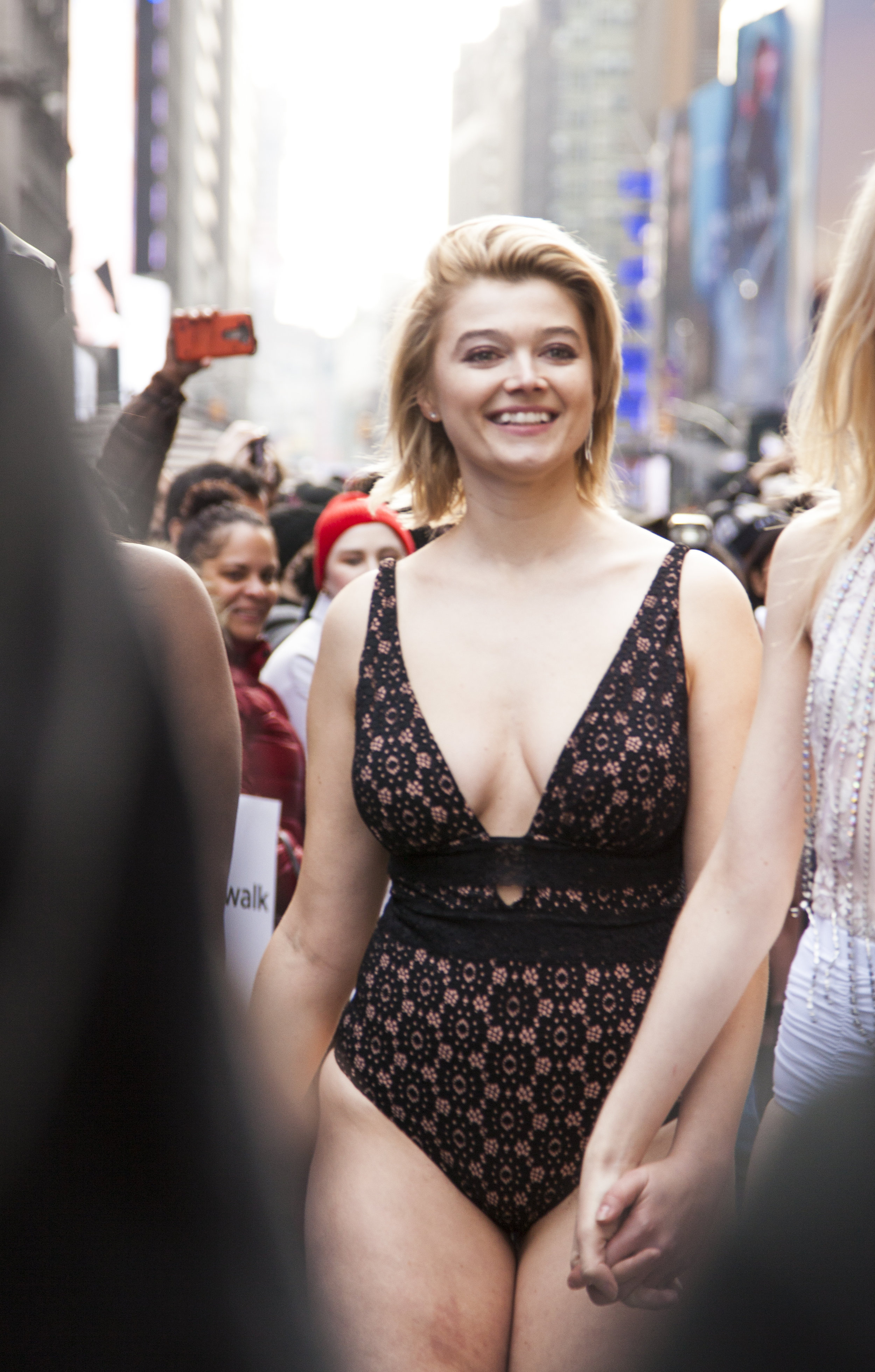 The Real Catwalk Founder
"This began as my own individual journey of self-love. I want to show the diversity of a whole spectrum of body types. To empower all to feel beautiful and confident in their bodies. There is something vulnerable about showing your body — revealing what was once taught to be concealed."
Photo Credit: Isabelle Von Arx
"What drew me to The Real Catwalk was the idea of celebrating inclusivity and creating space for diversity to thrive; the walk allows for representation for so many body types, gender identities and ethnicities. Thinking about what fashion means to me — it means an immediate and exciting way of expressing your inner being without having to say a word. It's also such a fun way to play with the idea of self; who do I want to be today? What ideas can I express today? I think it's a really beautiful thing."
Photo Credit: Isabella Von Arx
"I found out about The Real Catwalk through a very good friend, Daquan, who also participated in the show. The overall experience was just so motivational and let everyone know that sexy does come in ALL SIZES. Having the opportunity to work with Khrystyana was such a blessing because she is so inspirational. I was ready to show Times Square what I got on the runway."
Photo Credit: Oliva Steuer
"I have been a part of The Real Catwalk since the beginning with a small group of people. I am good friends with Khrystyana and fully stand behind the message of loving yourself exactly as you are. As a woman of trans experience, I have had a lot of people try to define me and label me, but ultimately each individual is the only one who should have any power to do that. Fashion to me is about self expression — using garments and accessories as a tool to celebrate yourself."
Photo Credit: Isabelle Von Arx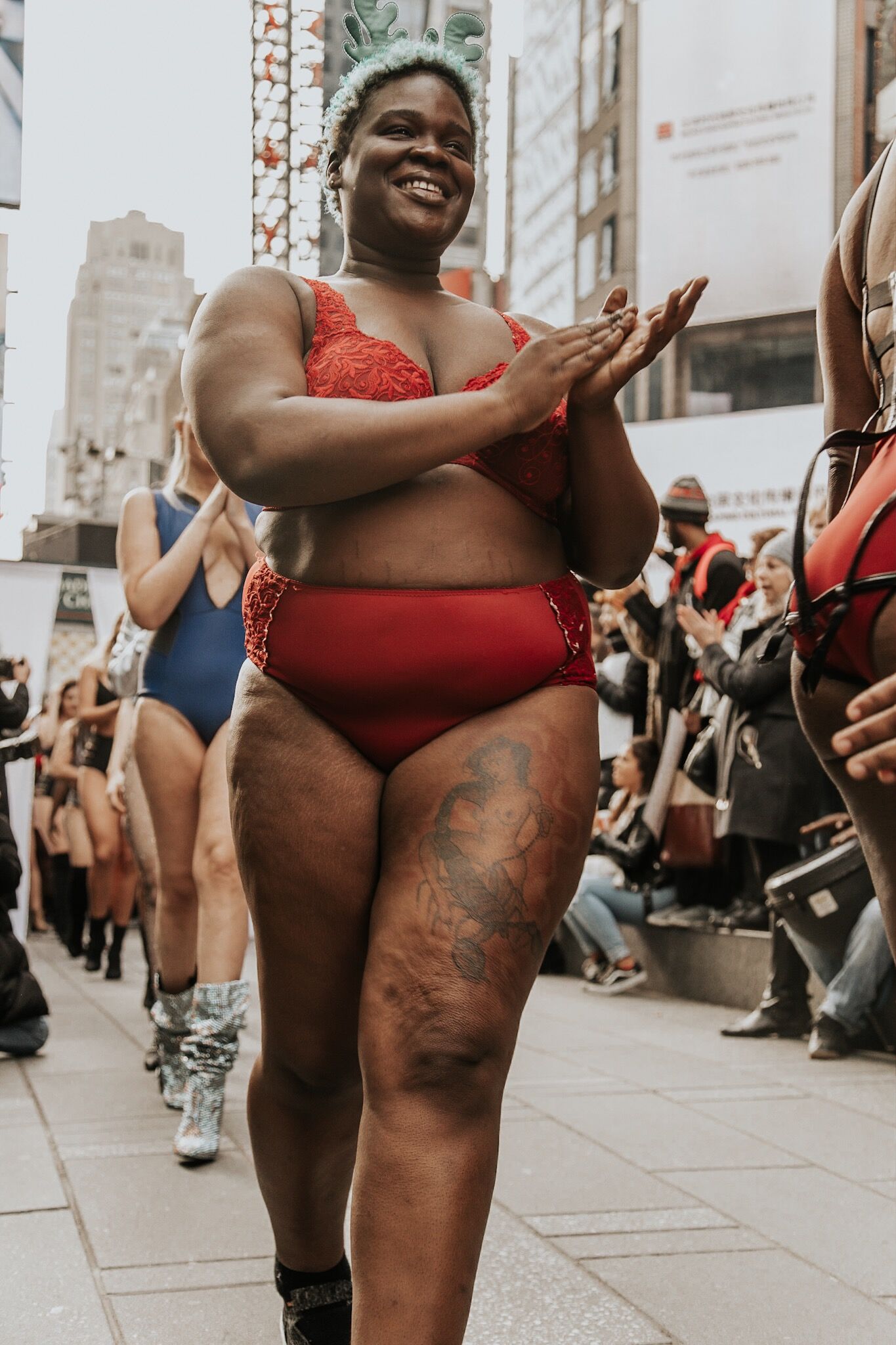 "I walked in the show to bring awareness to homelessness and show that just because you are homeless or experiencing some sort of struggle that does not mean you can't look your best or look sexier than you feel. It actually helps to take the edge off things when you're dressed for success. The truth is you never know what's really going on with a person just by looking at them."
Photo Credit: Holly Grace Jamili
"Fashion has always been a form of expression for me. When I was a teenager and having gone to The Harvey Milk High School, I began to buy women's clothes that would come across as androgynous. I had not disclosed my trans status to my family simply because it was made very clear that my feminine identity was not to be welcomed, tolerated or embraced at home. But the older I've gotten, I'm become more of a risk taker when it comes to fashion. The sky is the limit when it comes to what I can wear."
Photo Credit: Isabelle Von Arx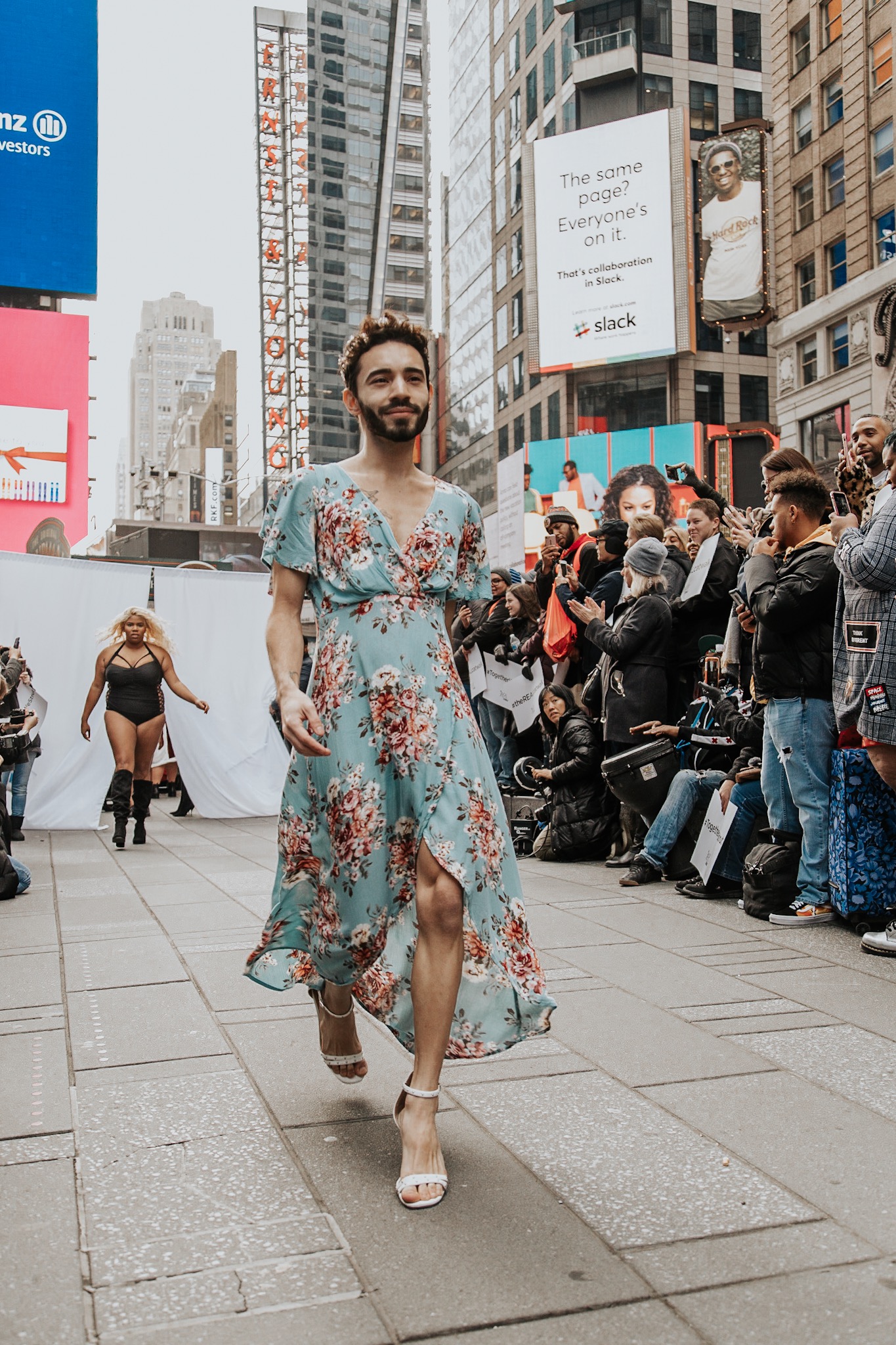 "My look was actually inspired by a Disney princess. I just moved from Florida where I'm known at the Disney parks for my princess-inspired fashion choices and since I'm in New York now, I decided to pay homage to Giselle from Disney's Enchanted, which takes place in NY of course."
Photo Credit: Holly Grace Jamili
"Fashion to me means being able to fully express yourself with clothes; the person you want the world to see — the person you envision in your head, no rules or boundaries. Just fashion."
Photo Credit: Isabelle Von Arx
"In the fashion world, intersctionality is hardly acknowledged, and people are very rarely represented. Major brands get away with the gentrification and cultural appropriation. Influencers, models, and other people in the fashion industry, are not taking a stand. People who should be representing us are staying silent, and not raising our voices up. I was truly honored to walk The Real Catwalk, with over 200 beautiful people, to stand together and say enough is enough."
Photo Credit: Isabelle Von Arx
"I'm such a changed person after The Real Catwalk after meeting so many incredible people with so many stories. I'm now going to stay on my mission of spreading my message of self-love and helping others. I feel so blessed and grateful for this experience."
Photo Credit: Gillian Francis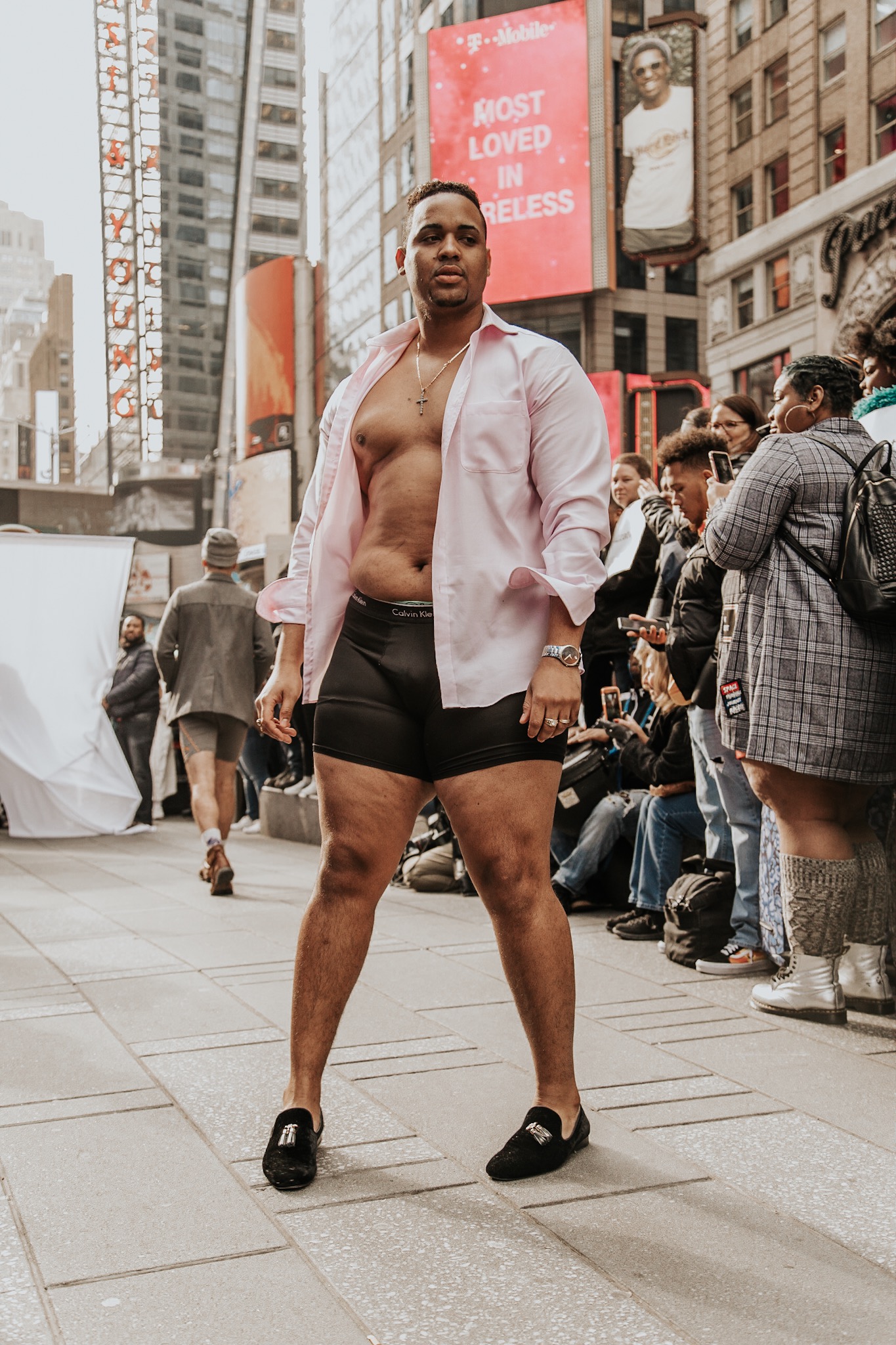 "Fashion for me is the most sophisticated form of art. It is a way to express what is in your soul through smile, movement, fabrics and great personalities. It is the language of our soul speaking beauty."
Photo Credit: Holly Grace Jamili
"Walking The Real Catwalk makes you feel comfortable in your skin. You can be yourself no matter your skin tone, height, or weight. You can show the world what makes you different."
Photo Credit: Holly Grace Jamili
Constance Smith is a 25-year-old, Afro-Latina, professional plus-size model based in Boston, who specializes in Runway, Commercial, and Editorial modeling. She is signed to We Speak, an agency that hires healthy models and is making a positive change in the fashion industry.