This is What Asexual Looks Like Part 3, Femme Edition
I'm Yasmin Benoit (@theyasminbenoit), an alternative model and asexuality activist from Berkshire, England.
After gaining a platform through my modeling, I decided to publicly come out as asexual in late 2017 with the goal of providing more representation for asexual people. Since then, I've came to realize that there are actually more asexual people out there than you would originally assume, but we largely go unseen. It's our lack of visibility which contributes to prevalent and harmful stereotypes about asexual people.
A misconception that I've encountered a lot is that there is an asexual way to look or dress, and it's not a good one. Asexual people are assumed to be "too unattractive" to get a partner. At the same time, we're not supposed to make ourselves look "attractive" by dressing up because we're not trying to sexually entice anyone. Not only does this assume that people only dress to please others and not themselves — it means that asexual people can't win either way.
When I was given the opportunity to write for Qwear, I decided to start the #ThisIsWhatAsexualLooksLike series and hashtag to give the agency back to asexual people, so that we could represent ourselves. I wanted to give us a platform to show that there is no asexual way to look or dress. In this edition of the series, I chose to focus on asexual femmes, to highlight our experiences navigating a world which sexualizes us and our self-presentation. I'm grateful for all of the asexual people who have participated in this new chapter of the series.
Valerie (@valer_himiko) is an 18-year-old art student from the Czech Republic. She captured my attention with her amazing Instagram looks, which she describes as "Coachella but every day." But her artistic skills expand much further than fashion – check out her animations on YouTube and her incredible make-up looks if you don't believe me.
"I wear a lot of chokers, mesh tops, fishnets, and faux fur coats. I also create my own clothes.
"There is a quote saying that 'the way we dress doesn't mean yes.' That is true but in my opinion, it doesn't mean anything at all, as I hate stereotypes! If I want to wear a bralette on top of a T-shirt, I just wear it. And if I feel like wearing a cycling jersey with high boots or even pajamas to school then I am going to wear it. For me fashion is a way to express myself, experiment with new things, and create my own art. Fashion does define me, but it in no way determines who I am. I can wear 'sexy' clothes and still be an asexual."
"It annoys me that people tend to sexualize clothing, because it doesn't make any sense. It is regarded as normal to wear just a normal skirt, but the minute I wear the same skirt with knee highs or fishnets everyone sees a sexual subtext in it despite me being actually more covered. Fashion should be about the freedom and being yourself. And this is what I am trying to do."
"My goal is to raise the calibration of human consciousness. I believe this is why I was put on this earth with no sexual desire — it does not run me what-so-ever. My 'style' has changed a lot throughout my life, but how I decorate my avatar does not represent who I am as a person. For the sake of argument, currently I would classify my style as a typical 'Instagram model': fake hair, nails, eyelashes and seductive poses."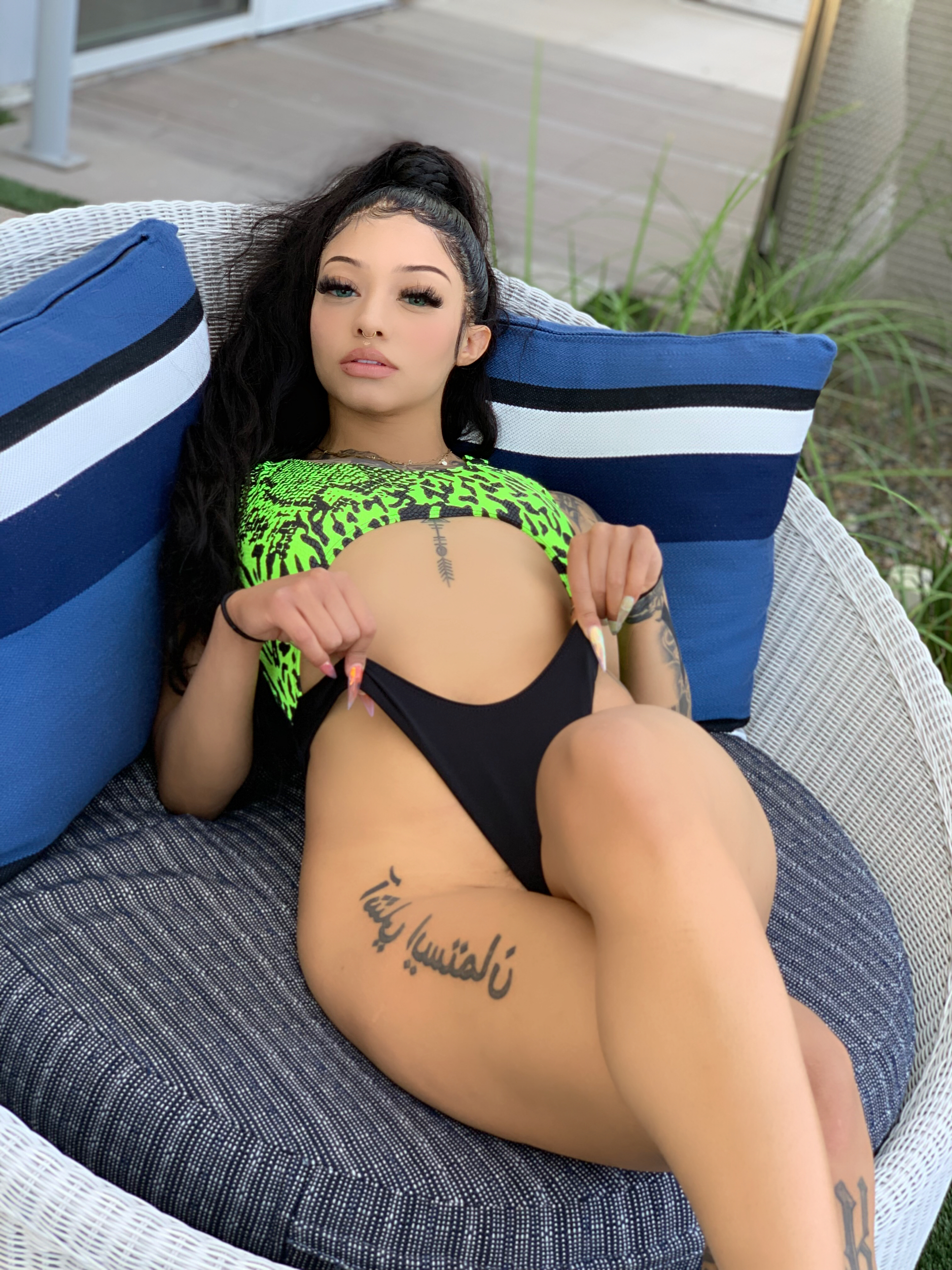 "Though I've always loved to decorate myself in the latest trending beauty fashions, it has drastically evolved since I started modeling roughly 10 years ago. I dress as tactic to attract people on the most instinctive level: impulse. Once captivated, My goal is that once captivated, they will look into me on a deeper level, typically provided on my YouTube channel @omgyoash or my second Instagram @asharmada."
Candex Louie (@dexgenerate) is a nonbinary trans Taiwanese-Chinese artist, activist, and writer, currently based in Los Angeles. Candex is pan/aro grey-asexual.
"My style is playful and fluid (being a genderfluid nonbinary person is definitely expressed through my fashion as well) but I like to have a lot of contrast in my outfits; I combine tacky or loud prints or colors in an otherwise formal silhouette, or neutral colors and formal pieces folded or tucked or unbuttoned in ways that skew the shape. My style is a big part of my gender expression as well as my aroace orientation."
"I'm generally quite comfortable with my body and wearing clothes that can be considered revealing, because I don't see or experience bodies as being inherently sexual. Though I'd add that bodies can be sexual, and that's also something to celebrate and be proud of, if that's what you like."
Jasmin, also known as Aidenn Queen (@aidennqueen), was one of the first people I wanted for this article. I was captivated by her amazing alternative modeling work, and was intrigued to learn that she is also an artist, DJ, singer, and event organizer in Austria.
"My style has never been clear cut. A normie would probably shove me in the 'goth' box on most days, even though I also love colors and try to mix and match styles. I slip into different roles just for the fun of it."
"It doesn't make much difference to me if I wear concealing or revealing clothes — it just has to fit the persona I'm presenting at the time, which depends entirely on my mood and whims. I don't have any issue with showing skin, or even nudity. But I really dislike when others think they can presume anything about my sexuality based on my clothing choices.
"Since I started training a year ago, I have an urge to show it off more, but to me it has nothing at all to do with any sexuality — even if others don't often understand that."
Stephanie Zambrana is an investigator in New York City, who is a panromantic grey-asexual. Despite identifying as asexual since 2010, she didn't become more involved in the community until 2016. She now runs the @aces_nyc Instagram page, a meet-up page for asexual and aromantic people in NYC.
"If someone asked me how I would describe my style I would look them dead in the eye for a moment before taking a sip of my old fashioned and say: 'Unironically Retrofuturistic Ravenclaw.'"
"Noir, specifically the femme-fatale archetype, has always inspired me. The bold smoldering looks, the silhouettes, just that look of 'probably untrustworthy, but you're gonna tell her your secrets anyway.'
"Now, this archetype is (quite literally) defined as a seductive woman, which doesn't really seem compatible with my asexuality. And I have run into problems in the past because of this. But I have (slowly) learned to say 'fuck it' and embrace my aesthetic."
"As I believe that style and sexual orientation or gender identity are not always linked ... my style doesn't really intersect with my asexuality nor does it always intersect with my gender. I've had remarks about me not being nonbinary because I mostly dress feminine. And I don't scream to the world about my asexuality but I'm pretty sure that some would feel the need to invalidate it for the way I sometimes dress."
"My style is very versatile, almost always feminine but I do have days where I need to be more androgynous. Everything to me is about aesthetic and feeling comfortable in what I'm wearing. A lot of people would say that I'm always overdressed — will it shock you if I say that it isn't how I personally feel?"
Want to contribute to asexual visibility? Share your looks using the #ThisIsWhatAsexualLooksLike hashtag on your social media!
We are volunteer-run and we rely on community support!